Hiking in Switzerland

I've been hiking in Switzerland four times now. I've hiked in the Engadine Valley, Zermatt, Saas Fee and the Lauterbrunnen Valley in the Berner Oberland. By far, I prefer the Lauterbrunnen Valley and nearby locales. I stay at the Beausite Park Hotel in Wengen. See official website of the Lauterbrunnen valley for details.

Hiking in Switzerland is a unique experience. While some people love it, others hate it, generally for the same reasons that others love it. People live in these mountains and use the trails regularly, often to get to another village, unlike the Rockies and Sierras in the USA where trails are usually recreational only. These mountains are also heavily used for skiing in the winter. Swiss values also get into the mix.

These facts conspire to a very felicitous arrangement:
lovely mountains where you can hike without fear of being eaten, bitten and or bugged to death
where there are often ski lifts to allow one to extend a hike by taking the lift to get higher into the mountains at the start or to get down at the end,
where maps, trail markers and signs are some of the best in the world and
where isolated restaurants allow you to stop for a drink, snack or hot meal in the midst of wilderness:
This restaurant marks the beginning of a white-blue-white trail that goes to the glacier above Grindelwald.

The trails in Switzerland generally come in three flavors: strolls, hikes and treks(all my terms). A stroll requires no equipment and is usually marked by yellow triangles, if marked at all. These trails tend to be wide, crowded and require not sense whatsoever. It is not uncommon to see women in nylons and heels on these trails. Hikes require water, foul weather gear, good hiking boots, and warm clothing and are marked by white-red-white markers. Most trails have this designation. You have to know what you are doing to hike these trails. They can be steep, vertiginous and expect you to have some modicum of common sense. Then there are white-blue-white trails that are treks. These are even harder than hikes and require even greater skills. I've only been on a few blue-white-blue trails.

All trails have signs, like the one at the top of the page. These signs tell you -- in time, not distance -- how long it takes to get to a particular point. These signs include important clues, such as where hotels, restaurants, busses, lifts and trains may be found. They also often tell you exactly where you are and your current elevation. Maps are a work of art. There are far too many types to describe here, but suffice it to say that they are so detailed that you can actually use the more detailed trail maps to navigate village streets because they include not only trails and roads, but also buildings and churches!

The pictures below are a very small part of my collection. Unfortunately, most of my pictures are not digital and I haven't bothered to scan them in. These are some of my favorites. I'll write more about the hikes when I get the time. I have literally hundreds of pics, but no time to download them to my website. Another day. All of these pictures are from the Berner Oberland.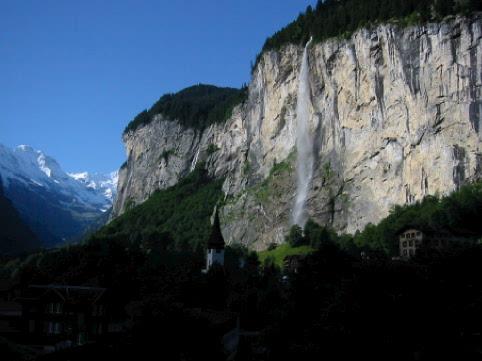 Lauterbrunnen Valley
and Staubbach Falls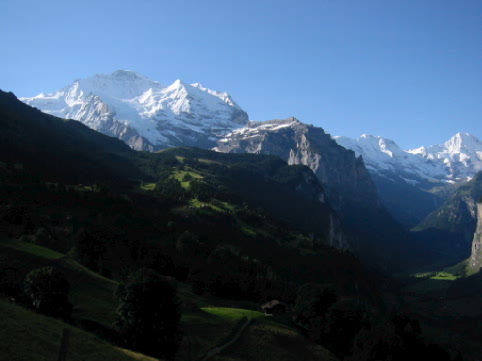 The Jungfrau in the morning
Wengen as seen from my room at the Beausite.
The Bachsee above Grindelwald.
A hut above Grindelwald.
On the path to Kilchbalm above Stechelberg
A panoramic view from Oberhornsee.

While I love Swiss flowers, everyone puts up pics of those. An unsung beauty in the Alps are the mushrooms. Here are some Swiss mushrooms I have met: