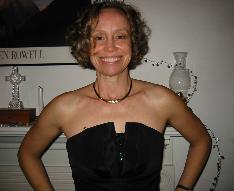 Gail L. Grant

Throughout this site, you can click on the little picture to see a larger one.
Hi! Glad you could stop by.
I'm a retired dot-com'er, AcroYoga monkey(slightly addicted), PiYo instructor, singer, yogini, dancer, hiker, photographer, writer, seamstress, basket-weaver, composer, designer, organizer, and a Christian, not necessarily in that order. See My Beliefs for details on what I believe. If you want to see my business background, check out my bio. See below for more personal information.
I devoted the first part of my life to making a living and now I'm devoting the rest of it to making a difference.
Current Projects/Activities include:
The Bright Lights Program was started in the fall of 2002 to teach children about helping others. The picture to the right shows the kids in the costumes I made for the May 2003 "Prom Night" theme. Bright Lights is a St. Mark's program but all kids are welcome. September 2016 marked the 121st trip to the nursing home!
AcroYoga is my new passion/playtime/joy. I started 10/17/2015 and have fallen deeply in love with the practice and the people. I do a lot of volunteer work but that can be draining. I wasn't feeding myself enough. AcroYoga fills me up and gives me the ability to play like a child, build trust, balance, skills, and make tons of friends. It was the missing piece in my life and I'm so thankful to have found it. See a few pictures here.
I teach at the Palo Alto Family YMCA:

PiYo. What is it? A high-intensity, full-body workout that uses combines elements of Yoga and Pilates choreographed to contemporary music to increase core strength, endurance, balance, sculpt your abs, and develop greater flexibility from BeachBody. What I like most about PiYo is that it is low-impact but high energy. Great total body workout! I teach PiYo on Tuesdays at 6:25pm(*NEW*), Fridays at 10:30am, and Sundays at 4:30pm in the Mind/Body Studio.
Yoga. It keeps me limber, grounded, and has helped me become a bit gentler in my approach to life. I teach yoga on Thursday mornings at 8:30am.

I love Zumba, especially Jennifer Beeson Pastan's class at PAFY. We have lots of fun together. We throw a mean potluck dinner after class quarterly.
Volunteer work at the Opportunity Center of the Midpeninsula, a facility that helps homeless and at-risk individuals and families. I work primarily with the Family Center in the after-school program.
Christmas Day Caroling at the VA Hospital For several years, I've sung carols with 100+ other people at the Palo Alto VA Hospital on Christmas morning to the hospitalized vets. To learn more and see pics/videos, go to the Give for Good site.
Quarterly Singing at the VA Hospital: A group of 20-25 people sing quarterly for our veterans, many of the songs are in four-part harmony.
Deborah's Palm is a wonderful, FREE center to support women. I co-lead a discussion group entitled "Life Lessons" Read more about the group here (search for Life Lessons).
Books about Inspiring People: My favorite type of book is biographies about people who have done amazing things or overcome incredible odds to triumph.
Office Volunteer and choir member at St. Mark's Episcopal Church.
St. Mark's Family Choir: A multi-generational choir that sings rounds in church during communion once every 2-3 months.
Kindness: A page about kindness, what it means to me and ideas for ways to be kind.
Making baskets, being creative, jogging, and sewing. Go to my house and crafts pics page. You can also see all the crafts I designed for Bright Lights at the Bright Lights Crafts Page.
I write music. Listen to some of it on my music page.
I LOVE to hike; I have some pictures and comments about favorite local hikes and hikes in the Swiss Alps, if you like pictures.
I like fast cars and USED to drive a silver 2000 Corvette. I traded it in for a Prius in April 2015 and I LOVE it!
Please feel free to send me email at
grant@glgc.com
if you have questions or comments.
My Bright Lights volunteer sign-ups are powered by: